The consumer-based transportation industry has seen major changes in recent years. Today, residents in many metro areas across the country, including those here in Minnesota, have more options for convenient, affordable transportation to get where they need to go. Most notably, this includes app-based rideshare services like Uber and Lyft. It also now includes rental scooters.
Two-wheel electric scooters have become the latest trend in rental transportation, and have gained popularity in major U.S. cities in large part for being an eco-friendly alternative commuting option, as well as a fun way to get around town. These services, such as the scooter company Bird, work by allowing riders to find and rent electric scooters nearby with the use of a smart-phone app, similar to what's used by Uber and Lyft, and drop them off near bike racks or anywhere they end up. However, like Uber and Lyft, these E-scooters have introduced some unique legal and regulatory concerns, as well as criticism and even a few citywide bans in places like Denver and San Francisco.
In the Twin Cities, where these services have made a recent arrival, local officials are learning first-hand about the new and unique issues e-scooters have brought with them. Among the issues are those involving safety, propositions to create ordinances that would require companies to obtain licenses for operating motorized scooters (which can reach speed up to 15 mph) in the city, and issues created by the fact that they don't have to be docked, and can instead be left or abandoned in various places.
Because rental scooters introduce unique issues when it comes to the law, criminal regulations, public safety, and civil liability in cases of accidents and injury, our legal team at Caplan & Tamburino Law Firm, P.A. has provided information about a few things you should know.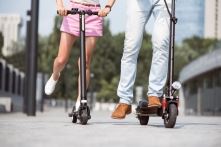 Criminal Issues
Rental scooters are classified as foot scooters under Minnesota law. Per Stat. Sec.169A.03, Subd. 15, that means they are considered a motor vehicle because they are self-propelled. As such, there is some exposure to potential criminal charges and allegations similar to those a driver could be arrested for when performing the same acts in a standard car or truck.
For example, a person may be charged with the following offenses while on a foot scooter:
Driving while intoxicated (DWI)
Chemical test refusal
Reckless driving
Failure to drive with care
Fleeing as a felony
Criminal vehicular operation
Another issue to consider is that foot scooters do not require a license to operate (at least for now), since their maximum speed is 15 mph. As such, a person who has received prior DWI convictions and is required as a multiple offender to use an ignition interlock device in order drive a vehicle could skirt the law by using a rental scooter instead.
Civil / Personal Injury Issues
Rental scooters have received a lot of criticism, and have even been banned in some cities, in large part because of the public safety issues they create. Here are a few key points worth keeping in mind when it comes to accidents, personal injury lawsuits, and liability:
Insurance Coverage – Riders do not need to have auto insurance in order to ride foot scooters like they must have to drive a motor vehicle. This can create issues when victims in rental scooter accidents seek financial compensation for their damages. It may be worth looking into your own insurance to determine if it would cover such an accident, and consider purchasing additional coverage if it does not.
Preventable Accidents – Rental scooters require no training or certification in order to ride, and can pose dangers to both inexperienced riders and those around them. In fact, some cities where these scooters are available have reported a number of single-scooter crashes, as well as car accidents, pedestrian accidents, and bicycle accidents involving scooter riders. In cases where another party may be at fault for injuring a scooter rider (such as when a distracted driver hits a rider they didn't see, or a scooter rider strikes a hazard on a property where the premises owner failed to fix it), victims may have the right to pursue compensation from that at-fault party. However, in cases where scooter riders caused accidents through their own negligence, there may be difficulties in finding the available insurance coverage to help victims cover their damages (which is why coverage like uninsured motorist insurance is so important).
Abandoned Scooters – Another hazard created by rental scooters involve them being abandoned anywhere a rider chooses to leave them. These scooters don't have docking stations, and can therefore be left in walkways, roads, and other areas where they can increase the risks of accidents. Determining liability for accidents where pedestrians or cyclists trip over an abandoned scooter, or motorists strike a scooter and crash, is still a new issue in the eyes of the law.
Scooter Companies – One of the largest issues when it comes to civil and personal injury matters involving rental scooters involves the liability of scooter companies. Because these are still new services which are largely unregulated, there are many questions as to what duties these scooter companies owe consumers and the public, and when and how they may be held liable. In some instances, victims injured as a result of defective or improperly maintained scooters may have strong cases for compensation against the company, which should be held accountable for failing to ensure scooters are safe for consumers to ride. In others, as mentioned above, liability may not be as straightforward. For these reasons, it becomes critical for victims injured in e-scooter accidents to work with experienced personal injury attorneys like those at our firm when exploring their rights and options.
If you have questions about criminal charges or accidents involving rental scooters anywhere throughout the Twin Cities, our Minneapolis attorneys at Caplan & Tamburino Law Firm, P.A. are here to help! Over the years, our criminal defense and personal injury lawyers have earned a reputation for our ability to succeed in challenging cases, including those involving new and unique legal issues. To discuss your needs and learn more about the ways we can help, contact us for a free consultation.